Liquid Icons – the fine wine research and content production company founded by the late, great Gérard Basset OBE MW MS and his good friend Lewis Chester DipWSET – today unveiled the 2022 Golden Vines® Trophy. The design and production was an unprecedented collaboration between Amorim Cork of Portugal and London silversmiths' Grant Macdonald, with the artwork design from Italian-Ethiopian artist RED LONGO. The presentation case has been custom-made by Golden Vines sponsor, Gucci.
Similar to last year's iconic trophy design, Shantell Martin - last year's artist and now Golden Vines® Artistic Director - worked with RED to create a design that fit the diversity & inclusivity ethos of the event and RED's graffiti-street style of art.
In his youth, Milan's graffiti scene provided Red Longo (or RED to his friends) with a much needed outlet for rebellion. This flourished into a passion that now sees him creating art works across the world. His work is bold and distinctive, combining a range of African Art inspirations, his Ethiopian heritage and contemporary street fashion.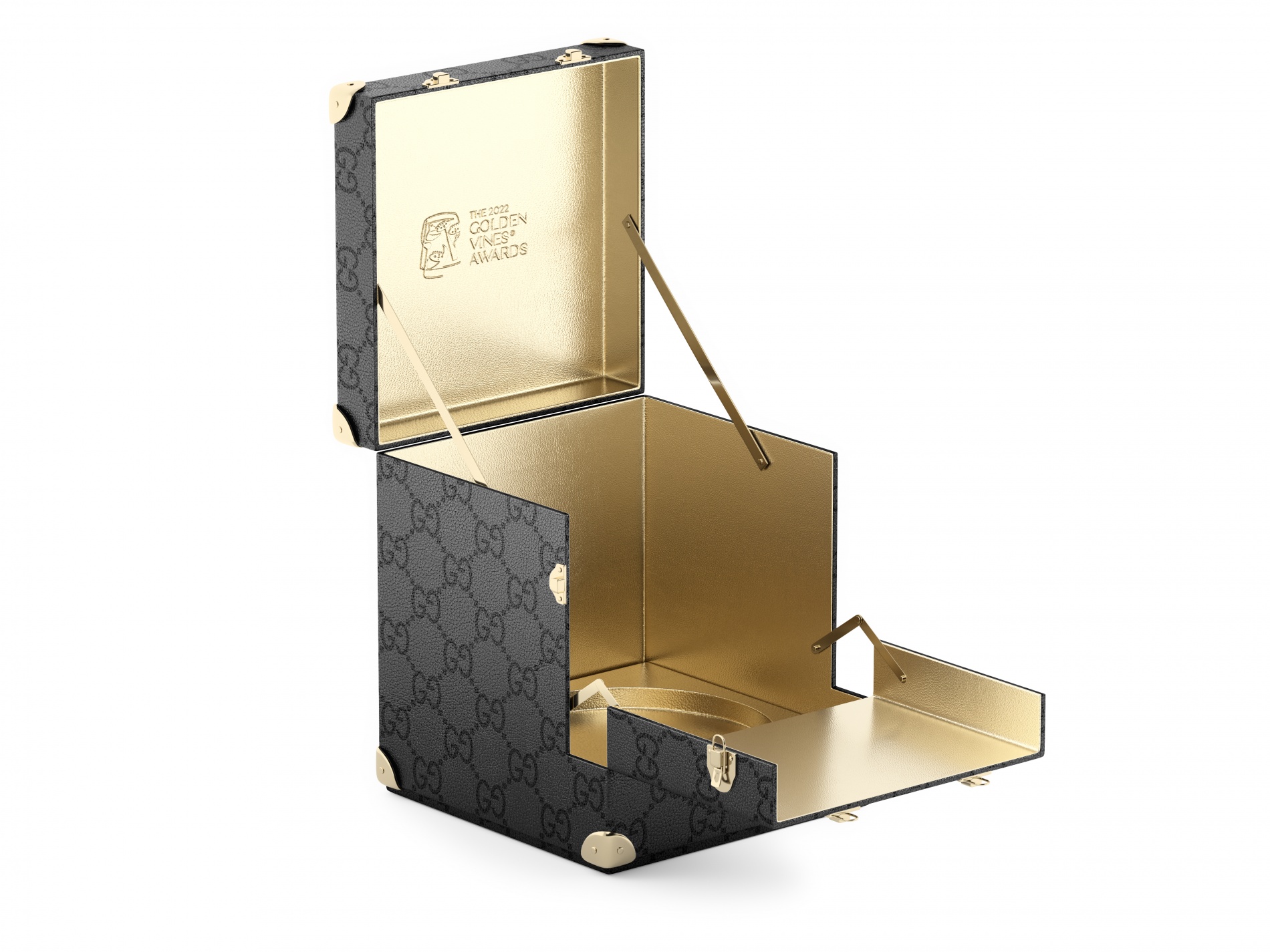 "The Golden Vines Awards is a wonderful expression of the centuries-old intersection between wine, art, cork and nature. The intense, creative path behind the Golden Vines trophy design draws on that unique relationship, to deliver a beautiful celebration of the quality of the winners, the wines and winemakers that are an integral part of Amorim Cork's global leadership", commented Carlos de Jesus, Amorim's head of marketing and communications.
George Macdonald, Managing Director of Grant Macdonald stated: "Working in the world of luxury, it makes total sense for our brand to be associated with the fine wine world. It's a pleasure to continue our working relationship with The Golden Vines Awards, creating another trophy that is both innovative and aesthetically stunning".
The Trophy will be awarded to the winners of the Golden Vines® Awards 2022 at the Salone di Cinquecento at the Palazzo Vecchio in Florence on 16th October 2022.
An unprecedented 950 fine wine professionals globally voted for the Golden Vines® Awards winners. The Awards categories with the winners from 2021 were:
Golden Vines® World's Best Fine Wine Producer Award - Domaine de la Romanée Conti
Golden Vines® Best Fine Wine Producer in Europe Award - Weingut Egon Muller
Golden Vines® Best Fine Wine Producer in the Americas Award - Ridge Vineyards
Golden Vines® Best Fine Wine Producer in the Rest of the World Award - Penfolds
Golden Vines® World's Best Rising Star Award - Domaine Arnoux-Lachaux
Golden Vines® Hall of Fame Award - Aubert de Villaine
Golden Vines® Honorary Award - Steven Spurrier
Golden Vines® Innovation Award - Coravin
A new category, Golden Vines® Sustainability Award sponsored by Gucci, has been introduced for 2022.
Liquid Icons' Wine & Hospitality Entrepreneur Award will also be presented at the Golden Vines® with the Award being produced by Riedel.